Affordable Alarm Monitoring
Have Your Own Equipment? Alarm Monitoring Less than 50¢ a Day! Buy Your Way: Add Your Choose of Monitoring, No Contract Available
SECURE YOUR HOME OR BUSINESS TODAY!
5 Diamond Alarm Monitoring Center
Alarm monitoring provides peace of mind.
Stay connected and protected through BSG's alarm monitoring services. We have monitored thousands of home security systems since 1995 and can monitor just about any type of system, whether installed by us – or by others. Our state-of-the-art UL listed alarm monitoring center offers rapid response to security and life safety threats. Sleep well at night knowing our professionally trained monitoring operators are on duty 24 hours a day, 7 days a week, and are there for you.
Choose Your Service Today
Whether you're switching from another provider or starting from scratch, we've got you covered.
Need Home Security Equipment?
View Our Featured Add On Products & Packages
You don't need a regular phone line to monitor your home!
If you no longer use a land-line phone, your home alarm can still be programmed to communicate both fire and security signals to the monitoring center. BSG uses a special cellular backup device that securely communicates between your home alarm and the monitoring center. These devices can be installed when you first install your new security system – or at a later date.
Even if you do have a regular land line phone, installing a cellular backup communicator is a great security feature for extra protection in the event of a power failure or a cut phone line. In today's world you can get your home phone line from a number of different sources. Each one has its own shortfalls when it comes to security and a cellular backup can help ensure your alarm signal gets to the central station in the event of phone line failure.
Affordable monitoring rates and award winning service.
BSG provides professionally monitored alarm systems 24 hours a day without high-cost lengthy contracts. We offer professional, UL listed alarm monitoring with competitive monthly rates.
Alarm monitoring is not only an affordable way to protect your home or business from burglary, medical and fire emergencies, but it may pay for itself! Many insurance companies offer premium discounts to professionally monitored alarm customers – sometimes up to 20% off.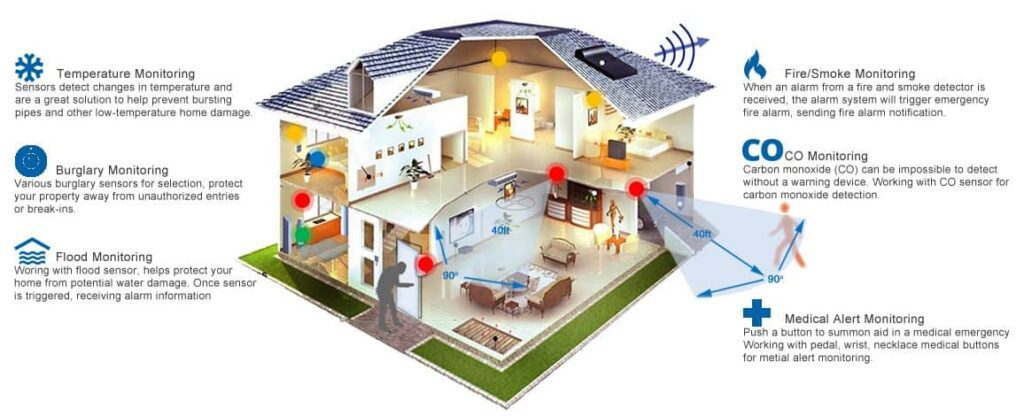 Save hundreds of dollars when choosing BSG to secure your home.