Video analytics also lets you create virtual "zones" and multi-directional "tripwires" for your cameras, enabling it to further categorize activity based on the layout of your home or business and the areas you need to protect.
SECURE YOUR HOME OR BUSINESS TODAY!
Get Smarter Video Alerts with our Video Analytics Service
Smart video monitoring is a modern security essential. With video alerts, live camera feeds and 24-hour recording options, video makes it easy to stay in the know about important activity at your home or business. Video analytics is a highly intelligent security feature that monitors your property's video streams to distinguish important events from routine activity. It uses this real-time insight to filter and categorize your video alerts, giving your video monitoring a new level of control, customization and value.
Vehicles coming and going: Know when a vehicle stops outside your home during the daytime, or if a vehicle leaves unexpectedly overnight.
Lingering visitors: Get a video alert if someone lingers by your front door, but not when the mail is delivered.
Pet protection: Know which neighbor's dog has been visiting your lawn. Know immediately if your own pet bends the rules and naps on the couch when you're at work.
Automated deterrence: Set your lights and other home automation scenes to turn on when a person enters your backyard, but not when an animal enters.
Vendor validation: Business managers can confirm that a delivery truck pulled into the loading dock, but won't be notified each time a customer exits the building.
Event Notifications in Real Time
E-mail and text alerts provide you with up-to-date information about activity in and around your home. Raise your awareness and peace of mind. You can sign up to receive important event notifications via e-mail, or receive video alerts on your smartphone, laptop or any other compatible wireless device. You'll get the information you need instantly so you can decide what action to take. Wherever you are, you can be alerted to important activities and events occurring at your home including:
BSG systems let you receive important alerts and keep a close eye on your home. Control your security system remotely with the mobile device you use every day, wherever you are, including event notification, video services, and lighting control. You'll have a level of awareness and peace of mind that is unmatched. You'll stay connected to your home whether you're across the street or across the country. Let BSG get you started with a free security and home automation assessment.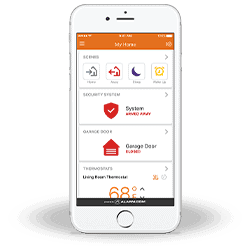 Make your home work for you.
Arm your home security system and control your lights, locks, cameras, and more directly from your phone.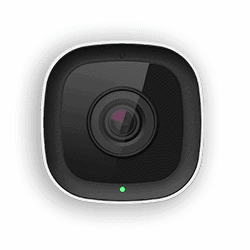 Welcome to the 21st century. You can pull out your phone and instantly monitor what's happening inside and outside of your home from your security cameras.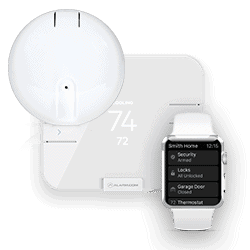 BSG offers a full suite of home security systems including smart fire and carbon monoxide detectors, water sensors and remote accessible thermostats.