Monitored Fire Protection
Home Fire Alarms and Burglar Alarms Save Lives with 24 hour fire monitoring protection. Plus you can save on your homeowners insurance.
SECURE YOUR HOME OR BUSINESS TODAY!
5 Diamond Alarm Monitoring Center
Early fire detection and burglar alarms can save your life, and protect your family and property. Let BSG protect your family with a monitored fire protection system. Don't be left in a dangerous situation without the protection of both a fire alarm and burglar alarm system.
Unlike a calculating burglar or a dishonest employee, a fire does not discriminate. Anyone or anything can be a target of its destructive powers. Fire is especially terrifying to a family member who may need special assistance to get out of the home. Home fire & burglar alarms give you round-the-clock protection, when you are home or away.
In combination with your BSG home security system, you can easily and affordably add fire systems protection. This includes both smoke and carbon monoxide detectors for your home.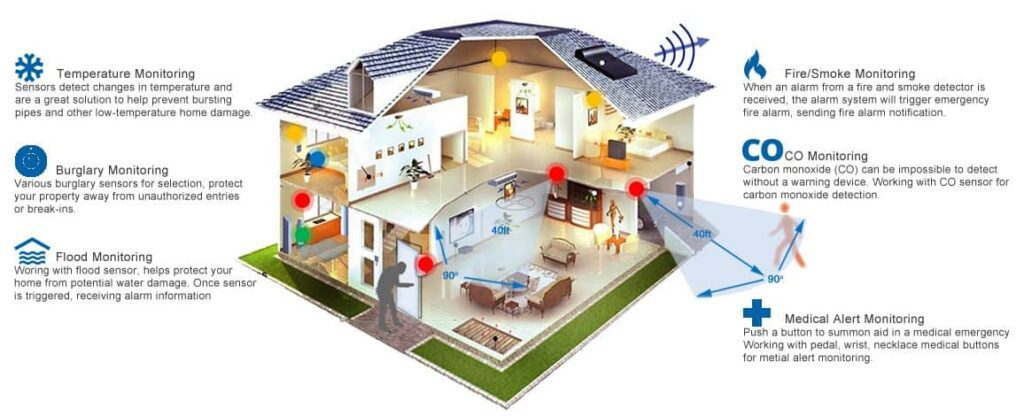 Don't go without 24-Hour alarm monitoring for added protection.
There is no doubt that smoke detectors save lives. While your home might already have a battery-operated smoke detectors or even hard-wired detectors, they are not monitored by a 24-hour monitoring center. Monitoring ensures that whether you are at home or away, your home and family is protected in the event of a fire. Our state-of-the-art UL listed alarm monitoring service will alert you if smoke or a fire is detected. The local fire department will be sent to your location.
Save on home insurance with fire alarms and alarm monitoring.
Allow us to show you how easy and affordable it is to protect your home and family against fire. Plus, we encourage you to speak with your home insurance agent to find out if you are eligible to obtain an additional home insurance discount with your new BSG home fire & burglar alarms. We're not only experts in security, but also fire safety.
Some of the additions you can make to your new or existing security system are:
Carbon Monoxide detection and monitoring.

Heat detection and monitoring.

Smoke detection and monitoring.
We also provide inspection and maintenance services such as:
Battery replacement on your battery-operated smoke detectors.

Annual preventive maintenance services to ensure your security and fire detection devices are working in optimal condition.
Featured Smart Home Products
All product prices include professional installation by a licensed technician.