A Smart Home Deserves a Smart Yard
If you have an irrigation system in your garden, yard, or even indoors, then you must be looking for an easier and convenient way to have smart sprinkler systems to control the watering. With the latest technology upgrades, there are many wireless sprinkler controllers are being available in the market. We will provide you the WiFi sprinkler controller comparison and reviews here to help you get the smart WiFi sprinkler controller systems.
The main advantage of having a WiFi enabled sprinkler controller system is, you can connect it to your home internet network and can control each sprinkler with your fingertips from anyplace. It will also help you to cut your water bills and save your money. Check this post and get your best sprinkler controller.
Smart Sprinkler Controller
Water can be conserved when watering your lawn, nearly 60% of the water your home uses on a daily basis comes from irrigation. All too often, landscape irrigation wastes water. Properly managing your irrigation system can help you reduce your annual outdoor water use by nearly 8,800 gallons, equivalent to the amount of water used to take 500 showers!
Rachio top-of-the-class smart sprinkler controller can help reduce your water consumption, save money, and maintain a healthy and beautiful landscape by maximizing the efficiency of your irrigation system.
With a Rachio controller connected to your Alarm.com-powered security system and app, you can:
Quickly check your irrigation status
When you're away from home, you can incorporate your lawn into your regular Alarm.com check-ins. Your Alarm.com app will clearly show you the status of your irrigation system alongside your security system, locks, lights and other devices.
Take control from anywhere
If you need to take your irrigation off-schedule, you can use your Alarm.com app to start or stop watering in real time, or to pause a schedule. If part of your yard needs extra water, Alarm.com gives you the option to turn on any sprinkler zone for a specified additional period of watering.
Avoid water waste when it rains
If it's raining at home, you can use your Alarm.com app to put your sprinkler system in "Rain Delay": an automatic savings mode that saves you watering an already-watered lawn.
Want a smarter lawn this summer?
To find out more about Alarm.com-powered irrigation for your home, contact your BSG expert today (210) 202-0525.
Shop Smart Sprinkler Controllers
Control your watering system from your smartphone with this Rachio 3 smart sprinkler controller. It controls eight zones at once, streamlining irrigation and watering and helping you conserve water with minimal effort and planning. The Weather Intelligence technology built into this Rachio 3 smart sprinkler controller detects the weather and adjusts your watering schedule for optimal results.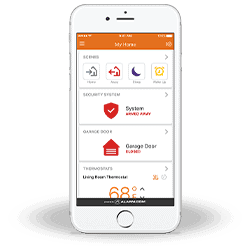 Make your home work for you.
Arm your home security system and control your lights, locks, cameras, and more directly from your phone.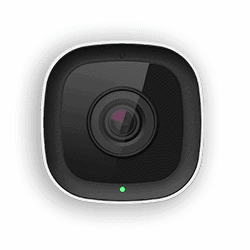 Welcome to the 21st century. You can pull out your phone and instantly monitor what's happening inside and outside of your home from your security cameras.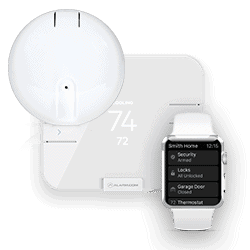 BSG offers a full suite of home security systems including smart fire and carbon monoxide detectors, water sensors and remote accessible thermostats.